Mission
Because making the right decision is the first step to creating value, our mission involves working alongside key business leaders throughout their decision making.
Read more >
The Virtuous Circle of Value Creation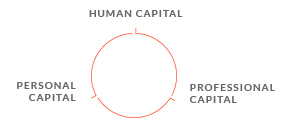 OPLEO Avocats has developed its different areas of expertise solely in response to the very specific needs of key business leaders. The Firm's areas of expertise each fall within one of these value creation drivers, that is, 1) Human Capital; 2) Professional Capital; and 3) Personal Capital.
Read more about our areas of expertise >
Team
In selecting and training our lawyers, we strive to apply the same principals we use to serve our clients.
Our lawyers deploy a cross-disciplinary approach that draws on our teams' specific areas of expertise to best serve key business leaders.
As an extension of our services, we have developed strong relationships with other professionals in the exclusive interest of our clients.
Read more >